Chapter 6 — Brimstone Badge
Brimber Gym
Make sure that you heal your Pokémon before proceeding! It is recommended that you train your Pokémon until they are at Lv. 22 or higher.
Once you get back from Mt. Igneus through Route 6, the Brimber Gym will be unlocked. Enter the building behind the Pokémon Center and up the stairs. Proceed to your second Gym battle when you're ready. The Gym is built in the base of the volcano, symbolizing that the Gym specializes in Fire-type Pokémon. Once you're in, there will be a noob and the Gym Guide. Talking to the Gym Guide tells you to fight the Gym Leader, which to get to you first need to do some parkour. Fire-type Pokémon are weak to Water, Ground and Rock. Marill and Azumarill are good choices to use, as they're the only Water-type Pokémon available other than Starter Pokémon before battling the second Gym, with its Water-type moves being super-effective. Other options include Hippopotas that can learn Dig at Lv. 19 a Ground-Type move, as well as the Fire/Ground-type Numel which gets Magnitude. Be warned that the Burn status condition not only damages you per turn but also halves your Attack, making Physical Attack moves weaker.
Proceed and jump over the two cracks in the ground. Pyro Lance will take you to a battle. He has three Slugmas. Not exactly a great variety, but don't let your guard down. Their abilities Magma Armor and Flame Body have a 30% chance to burn any Pokémon that makes contact with it, so avoid using Contact Moves. Ground-type, Rock-type, and Water-type, all of which are super-effective on Slugma, tend to be ranged, so don't worry too much! Slugma has low defenses, so it can be easily taken out by a super-effective attack.
Once you defeat Pyro Lance, continue the parkour. When you get to the rainbow rock wall, press the up arrow key to make it up. You will then be on the second floor of the gym. Make sure to stay close to the wall so you don't fall off into the lava. You will then see Pyro Bryce. He'll stop you and ask for a battle. He has a Charmeleon. Beware of Charmeleon, as it is able to release a powerful Dragon Rage. Dragon Rage deals 40 HP worth of damage every time, so it is extremely strong at this stage, as at least one of Pokémon have below 40 maximum HP. However, it does 0 damage against Fairy-types. Marill is a great way to counter Charmeleon. It can launch super-effective moves such as Aqua Tail, and stay immune to Dragon Rage as well. It is extremely recommended to catch a Marill, especially against Charmeleon.
Continue once you've defeated Pyro Lance. Next, battle Pyro Cole. He will tell you that you're halfway through the parkour. Pyro Cole has a Ponyta and a Litleo. Ponyta has 90 base Speed - extremely fast for a non-evolved Pokémon. Combined with a powerful 85 base Attack, Ponyta can be a major threat if not taken care of fast. However, Ponyta has fragile defenses, so it can be easily taken out by a Pokémon such as Marill. Next is Litleo. It can be easily taken out by a super-effective move due to also having fragile defenses. Beware of Noble Roar and Headbutt, however. Noble Roar lowers the Attack and Special Attack of a Pokémon, and Headbutt is powerful STAB move for Litleo. As Ghost-types possess an immunity to Normal-types, you can switch into a Ghost-type such as Gastly to take the hit. However, Litleo may use another move, so it is recommended to stay with a Pokémon that has super-effective moves against Litleo.
If you have not healed your Pokémon this whole time, it is recommended to go back and heal. If you fall, don't give up! You'll make it eventually! If your Pokémon are weakened, a good tip is to heal your Pokémon when you fall down, because you are brought back to the beginning of the parkour. Proceed on to Pyro Moe. He has a Torkoal, which can be dangerous. As Torkoal has a humongous base 140 Defense, it is recommended to use a Special type move. Even then, Torkoal still has a decent base 70 Special Defense and base 70 HP. Take Torkoal out with a super-effective Special move such as a Bubble Beam from a Marill or an Azumarill. If not taken out in one super-effective hit, Torkoal should be taken out in two or three.
VS Sebastian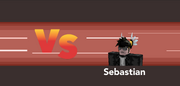 Route 7
Lagoona Lake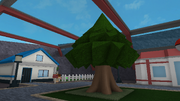 Lagoona Trenches