Route 11 is a vast desert in northwestern Roria, connecting Cragonos Mines and Aredia City. It is also accessible via the Sky Train that links to Cragonos Peak and Route 10 — in fact, until the player gains the ability to use HM6 Rock Smash on field, the only way to access this route is by the Sky Train, which requires the Sky Train Pass acquired after obtaining Soaring Badge and stopping the crisis in Anthian City.
Well known for being a desert route, a sandstorm constantly rages throughout the area. The deep sand on this route is home to numerous Ground-type Pokémon. In addition, it also slows down players and disables running, although it does not cripple the speed of hoverboards.
Notable Places
Cragonos Mines Exit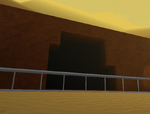 The Cragonos Mines exit towards this route is located behind the Sky Train Terminus, where it has red stones that are used as ramps. Hiker Alec is on these ramps, so be wary of an encounter there. This exit leads back to the other side of Lower Cragonos Mines that is blocked by a cracked rock, requiring HM6 Rock Smash to go through.
Desert Catacombs Entrance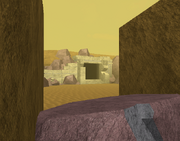 Desert Catacombs are located on the east of this route after continuing forward for a bit from the Sky Train Terminus. Paleontologist Aria is positioned there with stairs near her. Climbing the stairs will lead to a cracked rock blocking the way, which requires HM6 Rock Smash to continue.
Pokémon
Deep Sand
Note: Rarity levels are estimations according to this scale and might be subject to changes due to different encounter assessment results.
Pokémon
Type
Image
Rarity
Items
EV Yield
Walking
Deep Sand
Lv. 28-31
Cacnea

Grass

Common
1 Sp. Atk

Trapinch

Ground

Common
1 Atk

Hippowdon

Ground

Uncommon
None
2 Def

Krokorok

Ground




Dark

Uncommon
2 Atk

Sandslash
Kanto Form

Ground

Uncommon
2 Def

Maractus

Grass

Rare
2 Sp. Atk

Cracked Rocks
Rock Smash
Lv. 15-20
Requires Crater Badge
Dwebble

Bug




Rock

Uncommon
1 Def

Shuckle

Bug




Rock

Rare

1 Def
1 Sp. Def

Click on the Pokémon names to check their learnsets on Bulbapedia. All Pokémon above have been updated to follow their movesets in Pokémon Sun and Moon. Hover on the item sprites to check the exact chance of being held by the Wild Pokémon.

Roaming Pokémon are not listed in the table above. They are fixed at Lv. 40 and have a 0.1% chance of appearing anywhere in Roria with wild encounter methods specified here.
Trainers
Note: Trainers marked with a star symbol (*) are available for rematches.
Trainer
Pokémon
Type
Level
Image
EXP
EV Yield
Reward
Hiker Alec *

Graveler ×2
Kanto Form

Rock




Ground

Lv. 44

1291 ×2
2 Def
each
$1376
Rhydon♂

Ground




Rock

Lv. 45

1639
2 Atk

Onix

Rock




Ground

Lv. 43

709
1 Def

Survivalist Peter

Cacnea ×6

Grass

Lv. 44

631 ×6
1 Sp. Atk
each
$1408




Paleontologist Aria *

Diglett
Kanto Form

Ground

Lv. 44

499
1 Speed
$1440
Drilbur

Ground

Lv. 44

622
1 Atk

Dugtrio
Kanto Form

Ground

Lv. 45

1369
2 Speed
Sandslash
Kanto Form

Ground

Lv. 45

1523
2 Def

Rising Star Darren *
Physical Attack and Money Hotspot

Krokorok ×2

Ground




Dark

Lv. 46

1212 ×2
2 Atk
each
$2760
Trapinch

Ground

Lv. 45

599
1 Atk

Punk Guy Draysen *

Scrafty

Dark




Fighting

Lv. 46

1685
1 Def
1 Sp. Def

$1472
Krokorok

Ground




Dark

Lv. 45

1186
2 Atk

Cacnea

Grass

Lv. 45

646
1 Sp. Atk

Cacturne♂

Grass




Dark

Lv. 46

1636
1 Atk
1 Sp. Atk

Adventurer Tommy

Magcargo

Fire




Rock

Lv. 46

1419
2 Def

$736
Magmar

Fire

Lv. 45

1668
2 Sp. Atk

Camerupt♂

Fire




Ground

Lv. 46

1587
1 Atk
1 Sp. Atk

There was no change to the above matches between any of the updates.
Items
Trivia
This is the first and only route so far in Roria that suffers from any continuous adverse weather.
Providing 4 trainers who can be fought multiple times, this route has the most trainers available for rematches out of all accessible routes, and ties with western Mt. Cragonos (3 in the mines and 1 on Cragonos Cliffs) out of all locations for having the most trainers able for rematch.

However, this route would only tie with Cragonos Mines for the record if Worker Deven did not vanish.

Rising Star Darren provides 5 Physical Attack Effort Values when defeated, becoming the replacement of Worker Deven after he vanished from Cragonos Mines. Furthermore, since his team only provides Physical Attack EVs, he is a much better hotspot than Gentleman Nolan back on Route 8.

Additionally, he provides more money than Gentleman Nolan (who had his reward reduced by nearly half), making him a better choice when it comes to money farming, which becomes important for Mega Stones and Apartments.

Despite this route being a desert, the Recreational Teleportation Device receives a good signal, presumedly because of the Sky Train Terminus at the beginning of this route.
The deep sand was a lighter colour compared to the normal sand when Route 11 was initially released. However, it has been quickly updated to a darker colour.

On the other hand, the deep sand in Old Aredia retains the original lighter colour.

The background music is based off the desert on Hoenn Route 111 in the core series games Pokémon Ruby, Sapphire and Emerald, as well as their remakes Pokémon Omega Ruby and Alpha Sapphire.

Coincidentally, both routes are the 11th route of their corresponding regions.

Route 11 is one of the locations for the portal connecting Shadow Void to open overnight during the 2017 Halloween Event.