This article contains spoilers!
Secret Lab is a hidden basement under a red pick-up truck in the Port Decca shipyard. This lab can be accessed by pressing a green switch on a podium inside the shipyard after using Headbutt on the oil barrels in the area. This causes a big mess that distracts the security guard protecting the button. Apparently, a top-secret and dangerous experiment was in progress recently and had just failed.
Notable Events
Encountering Mew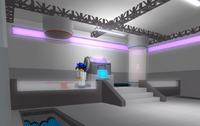 A sailor on the Port Decca Pier says that he heard a weird noise from the shipyard overnight. When investigating inside, a security guard is blocking a staircase to the podium. Some oil barrels are piled up close to a ship being repaired. Bring a Pokémon with the move Headbutt to push some oil barrels inside into the water. The guard will notice and come yelling at the player, leaving the staircase unattended. Sneak up the podium and press a green switch on the control panel. The hook on top is moved to lift a red pick-up truck, revealing a hidden staircase to this lab.
4 Scientists are seen in this lab, conducting an experiment which is highly confidential and involves an imprisoned Pokémon. After defeating the first 3 Scientists standing guard, the player can approach the computer and click on it to set the Pokémon sealed in the right giant tube free. The Pokémon, which is Mythical Pokémon Mew, immediately uses Teleport to escape and starts roaming around Roria. To the left, another giant tube is broken with liquid spilt on the floor. The last Scientist says that everything they worked for is gone, hinting that their failed experiment was to clone Mew into a certain Legendary Pokémon...
Trainers
Trainer
Pokémon
Type
Level
Image
EXP
EV Yield
Reward
Scientist Jeremy

Porygon

Normal

Lv. 60

1015
1 Sp. Atk

$4752
Porygon2

Normal

Lv. 63

2430
2 Sp. Atk

Porygon-Z

Normal

Lv. 66

3408
3 Sp. Atk

Scientist Albert

Magnemite

Electric




Steel

Lv. 60

835
1 Sp. Atk

$4752
Magneton

Electric




Steel

Lv. 63

2200
2 Sp. Atk

Magnezone

Electric




Steel

Lv. 66

3408
3 Sp. Atk

Scientist Herald

Shinx♂

Electric

Lv. 60

681
1 Atk

$4752
Luxio♂

Electric

Lv. 63

1714
2 Atk

Luxray♂

Electric

Lv. 66

3323
3 Atk

There was no change to the above matches between any of the updates. All information above only applies to the Normal Adventure Mode.
Trivia
Each Scientist available for battle here focuses on a single evolution family.
Mew cannot legitimately learn Teleport except in the earliest core series games Pokémon Red, Green, Blue and Yellow, when this move was available as a TM.

When encountered in the wild, Mew is shown to have already forgotten Teleport.

The entrance to this lab being under a truck is possibly a reference to the rumour of finding Mew beneath a truck in the earliest main series games.